let go. i dare you.
the freedom of choice is an incredible thing but quite often debilitating. i often write about the freedom to get up and run, to make my own decisions, to say how i feel, to control what i do and how i do it. the idea of choosing your own adventure is freedom at its finest. however, that control can often be crippling. consider allowing someone else to take the lead. its actually quite freeing. letting go of control. balancing the fight with the flow. because with too much control (fight) there is struggle. stagnance. a dictatorship. and too much flow is unrealistic. utopian. it is about striking a balance. #boxandflow
this week, i had the unexpected privilege to enjoy not one but two amazing omakase experiences. o·ma·ka·se, pronounced ōməˈkäsā,ōˈmäkəsā/is defined as a meal (in a Japanese style) consisting of dishes selected by the chef. now, i say privilege because a Japanese chefs sushi tasting is typically a pricey feat. but lets flip that stigma and instead consider it an investment in your willingness to let go.
see, omakase to me is full of discovery...being open to having no idea what the chef will serve you, what it is you're actually consuming and maybe even really liking something you never thought you would.
There are quite a few omakase options in NYC. On Thursday I enjoyed Sushi Zo which opened earlier this year in Greenwich Village following their original flagship location in LA. Chef Masa runs the show and created a 15+ sushi tasting menu that is hard to describe in words. The atmosphere at Zo is stark (like most sushi restaurants) allowing the food to create the experience.
Sushi is all about the rice...the texture, temperature + ratio to fish. At Zo, it is as close to perfect as it gets. The rice is warm and minimal, allowing the fish to really shine. The accoutrements on certain pieces like yuzu salt on scallops or pickled shishito peppers on goldeneye snapper really bring out the flavor and freshness of the accompanying fish. The seared chu-toro and seared waguy beef nigiri are packed with umami and richness, melting in your mouth almost too fast to savor the delight of the protein. The service is as authentically Japanese as the food. I would go back in a heart beat.
who knew that 48 hours later I would be invited to Shuko for omakase with three friends in their private downstairs room? yes please! the sushi at shuko is different...in a good way. my favorite actually was the tempura maitake mushroom sushi and the spicy trout. They were quite accommodating in my request for half sashimi as well. because balance, right?
Shuko is less traditional with great cocktails, even better music (jay-z et al) and a fantastic wagyu beef supplement. bottom line, Shuko is fun. The owners Jimmy + Nick previously opened Neta on 9th near 6th avenue. if you have an occasion and need a room for eight and a really magical experience, their private room is ideal.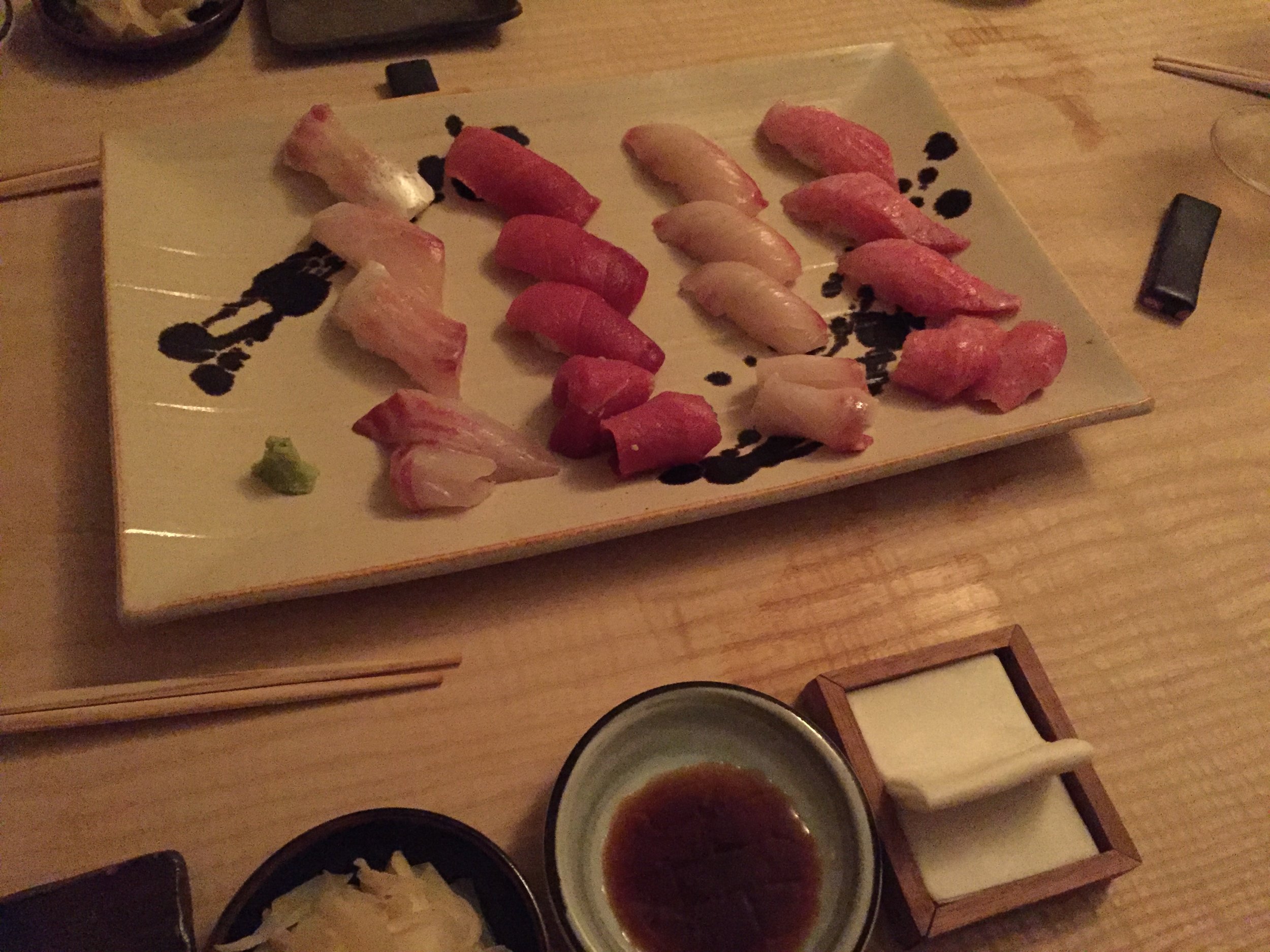 If you are looking for a less buttoned up, more celebratory experience, book Shuko. If you want the best omakase I've had to date in NYC, go to Sushi ZO.
my point? try something new and let someone else take the lead. maybe you'll learn you love uni. Or learn, like me, that it not only looks, but also tastes like wet play doh. let go of the control. be open to new experiences, new possibilities, new discovery. be open to the unexpected, while letting someone else do the work, if only for just once.
and with that said...im going for a really long run. because, balance.
for more omakase suggestions:
traditional omakase in a very quiet environment, try Ichimura.

BYOB low key UES 75$+, try Tanoshi

creative, rich, over the top omakase, try O Ya

others include: Azabu, 4-star Nakazawa, the OG Masa, Yasuda, Sushi Gari and others...